Beyond tabs and central panel, your site is visible through the interface's central part.
All the actions made in the Automne's interface are set in floating windows offering several characteristics:
You can remove them,
You can enlarge most of them (a double click on the top menu of the window or a click on the 'enlarge' button in the upper right opens it in full screen).
You can close the window by clicking on the button 'close' in the upper right of the window,
You can close a window only if all the windows depending on it are closed,
Hovering over the « ? » up right, you will find pop-up help concerning the opened window's features
Most of the windows offer, at top, a menu for searching and filtering, permitting quick acces to the data you are looking for.
Example of a modal window in Automne's administration interface :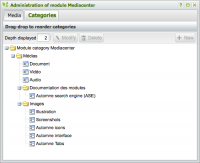 Attention: when you open a window, the background turns grey and it' becomes impossible to click on the elements of the background (apart from the windows already opened).

To access to the background, you just have to close the windows currently opened.