The content rows are made up of one or many content blocks that you place in your client spaces. The content rows allow for input and organization of your site.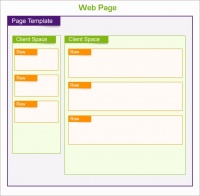 These blocks can contain many types of information:
Title,
Text,
Image,
Documents,
Flash Animation,
Module.
There are several default rows in Automne 4 (text, image, title h1, title h2, Google map...) You can also create your own content rows to enrich your site with several other types of information.
All content rows are independent from one another. There are no restrictions on the number of rows or their placement on the site. The content rows are usable everywhere and at any moment in the client spaces of your page models.

Thanks to the content rows, you have total freedom in the organization and content of your site, as well as an ease of personalization for your pages; all this without technical constraints.